About Us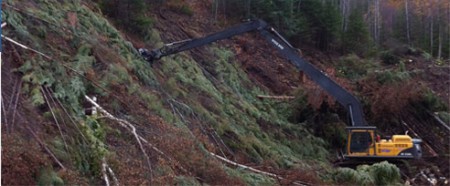 Timber Baron Contracting Ltd. was founded in 1986 and is headquartered in Terrace, British Columbia, Canada. We are a versatile company that has experience in a multitude of different projects over the years. With over 30 years in the industry, Timber Baron has a customer and safety focused approach to all projects and work sites.
Over its history, Timber Baron has been know for its ability to adapt to different markets and environments and is constantly changing the way we do business. The company has grown from one employee to a peak of 75. We currently have over 40 pieces of heavy equipment specializing in Air Curtain Burning, Grub and Clearing, Heavy Hauling, Sort Yard and Portable Log Debarked, Full Phase Logging, and Road Building. Our specialized equipment can be tailored or modified for any unique situation or customer request. We enjoy problem solving and new challenges!
As Timber Baron values the health and safety of every employee, we strive to exceed industry expectations for safety standards by maintaining SEBASE Safe Certification through the BC Forest Safety Council and utilizing current resources to support our health and safety programming.
View some of our past projects.
View what some of our clients are saying.
View some of our team members.