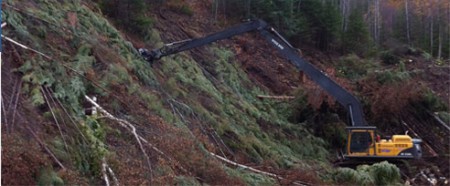 30 Years Experience in the Forestry Industry in Northwest BC
Timber Baron Contracting Ltd. was founded in 1986 and is headquartered in Terrace, British Columbia, Canada.
Celebrating our 30th anniversary, Timber Baron has been owned and operated by the Thomson family over two generations. We have a customer-centric philosphy; utilizing our vast experience to provide first class safety, reliability and professionalism in every aspect. From negotiating, planning, implenting and manouvering through challenging terrain; we approach every job with precision, competence and expertise.
Years of experience with diverse projects allows us to examine every job in an innovative and cost effective manner.
Air Curtain Burners - efficient green wood waste buring services.
Our lastest aquisition of Air Curtain Burners provides further innovation and diversity for our clients; allowing us to provide efficient and green wood waste buring services. Air Curtain Burners have limited smoke emissions and allow us to burn 24 hours when open burning is not permitted due to air qualilty concerns. We can burn waste wood uninterrupted when other contractors will be limited to favorable venting days which often limit open burning days tremendously in the Northwest BC area.